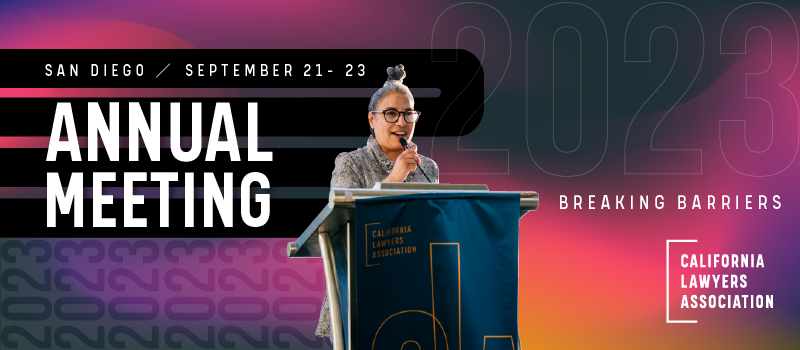 2023 California Lawyers Association Annual Meeting
Thursday, September 21st, 2023 through Saturday, September 23rd, 2023
Hilton San Diego Bayfront
1 Park Blvd
San Diego, CA 92101
Online registration will end Thursday, September 14, 2023. Onsite registration will be available starting Thursday, September 21, 2023. The registration desk will open at 7:30 AM and will be located on the fourth floor in the Sapphire North West Foyer.
If you have a registration code or a Law Student, you may still register through Tuesday, September 19, 2023.
For any questions or need to motify your current registration, please contact ProgramRegistrations@calawyers.org.
Ticket Options
CLA Member (REG) $695.00
Non-Member Regular (REG) $795.00
Committee Member $395.00
New Lawyers / Government & Non-Profit $295.00
Law School Students $295.00
Law School Students - Thursday Only $0.00
1-Day Pass CLA Member - Thursday Only (REG) $495.00
1-Day Pass Non-Member - Thursday Only (REG) $550.00
1-Day Pass CLA Member - Friday Only (REG) $495.00
1-Day Pass Non-Member - Friday Only (REG) $550.00
1-Day Pass CLA Member - Saturday Only (REG) $495.00
1-Day Pass Non-Member - Saturday Only (REG) $550.00
Returning Users Please Login
New Users Please Enter Basic Info