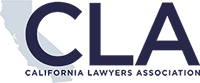 38th Annual Real Property Law Section Spring Conference
Program Materials & Supplemental Items
We have uploaded the education program materials for the 2019 Spring Conference for you to view beforehand.
Supplemental materials may be added, and will only be available on this site.
Program Schedule
Brochure
38th Annual Real Property Retreat Brochure.pdf
The California Lawyers Association Real Property Law Section
Presents
FRIDAY, MAY 3, 2019
Session 1 -Civility - Unintended Consequences .pdf
Session_2-Advanced_1031_Exchange_Strategies_2019.05.03.pdf
Session 3 - Artificial Intelligence.pdf
Session 4 - Marriage Counseling.pdf
Session 5 - The Places That Scare You.pdf
Session 6 - When Adversaries are Friends.pdf
Session 7 - Roads_Streets_and_Highways.pdf
Session 8 - Barriers to Housing Production; Real and perceived.pdf
Session 9 - Short Term Rentals.pdf
Session_10-Women_in_the _Profession.pdf
Session 11 - But I Only Had Two Beers! How Alcohol and Drugs .pdf
Session 12 - Keys to Success.pdf
Session 13 - Workspace for Hire.pdf
Session 14 - Measure of Damages.pdf
Session 15 - New Ethics Rules.pdf
Session 16 - Who Really Signed that Document.pdf
Session 17 - Reducing Land Use Conflicts.pdf
Session_18-Wages of Subsidy 1.0.pdf
SATURDAY, MAY 4, 2019
Session 19 - PG&E Chapter 11.pdf
Session 20 - Ethical Rules.pdf
Session 21 - An In-Depth Analysis of Section 1031 & it's Many Myths.pdf
Session 22 - Ground Leases.pdf
Session 23 - Coastal Development Update.pdf
Session 24 - The Business Law Workshop.pdf
Session 25 - 9th Executive Roundtable.pdf
Session 26 - Attorneys Fees in Bankruptcy Cases Post-Penrod Expect the Unexpected.pdf
Session_27_-_Common_Interest_Developments_and_Community_Association_2019_Legislative_and_Case_Law_Update.pdf
Session_28_-_2019.05.04 You Are More Than A Lawyer.pdf
Session 30 - Negotiating Title Insurance.pdf
Session 31 - Commercial Landlord Tenant Disputes Avoiding Traps for the Unwary.pdf
Session 32 - The Rise of Autonomous Vehicles.pdf
Session 34 - Litigation Under Housing Accoutability Act.pdf
Session 35 - New Mandatory Disclosures.pdf
SUNDAY, MAY 5, 2019
Session 36 - ADA Compliance for Existing Building.pdf
Session 37 - Effectively Litigating.pdf
Session_38-Into the Land of OZ- Exploring Opportunity Zone Funding and Real Estate Investements in Low Income Communities.pdf
Session 40 - Let's talk about Diversity.pdf
Session 41 - New Legislation Highlights.pdf
Session 42 - What Every Real Estate Attorney Needs.pdf
Session 43 - Comparing the AIR and CAR.pdf
Session 44 - Ensuring Compliance with Emerging Rent Control Laws.pdf
Session 45 - State of Seismic Retrofit.pdf
Session 46 - The Ins and Outs.pdf
Session 47 - The Final Transaction.pdf
Thank you to all the sponsors that made this year's confernece possible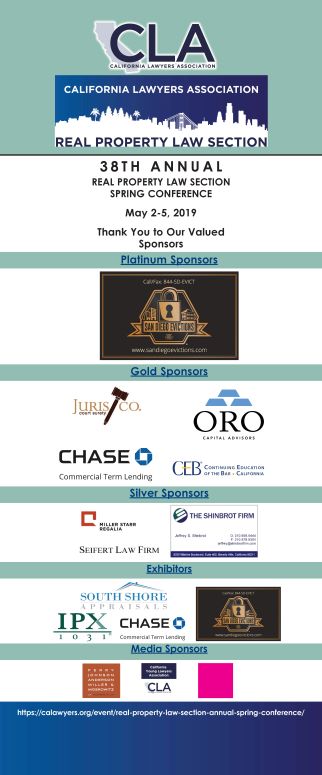 38th Annual Real Property Law Section Spring Conference
Points of view or opinions expressed in these pages are those of the speaker(s) and/or author(s). They have not been adopted or endorsed by the California Lawyers Association Board of Representatives and do not constitute the official position or policy of the California Lawyers Association. Nothing contained herein is intended to address any specific legal inquiry, nor is it a substitute for independent legal research to original sources or obtaining separate legal advice regarding specific legal situations.
©2019 California Lawyers Association
All Rights Reserved


The California Lawyers Association and the Real Property Law Section are approved State Bar of California MCLE providers
Page 1 of 1